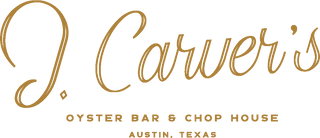 J. Carver's Oyster Bar and Chop House
509 Rio Grande St, Austin, TX 78701
We've been working with Chef John Carver for almost a decade, going back to his first restaurant Red Ash Grill. John and his team represent everything we hope for in a client, trusting us with their aprons, uniforms, and leather goods. It has been our highest honor to serve them in such a great capacity for so many years.
The back-waiter uniform features a fitted white buttondown shirt with a dark navy textured tie which we source for them. They also wear a black bib apron with secret inset pen, wine key, and hip pockets, dark brown leather accents, brass hardware, and gold embroidery. It's a sharp and sophisticated look with comfortable cross-back straps and lots of hidden functionality.
The service staff wear a long bistro style apron with secret inset pockets and a custom fitted vest with gold monogram. Each server gets their vest individually tailored for a perfect fit and a polished finished look.
You will never find a vest like this anywhere else in the world. This custom sourced material is exclusive to the bar staff and makes a striking impression when you see it in person. Paired with a grey and black striped bowtie, this look is one-of-a-kind, as it should be, when worn by some of the most skilled mixologists in Austin,TX.